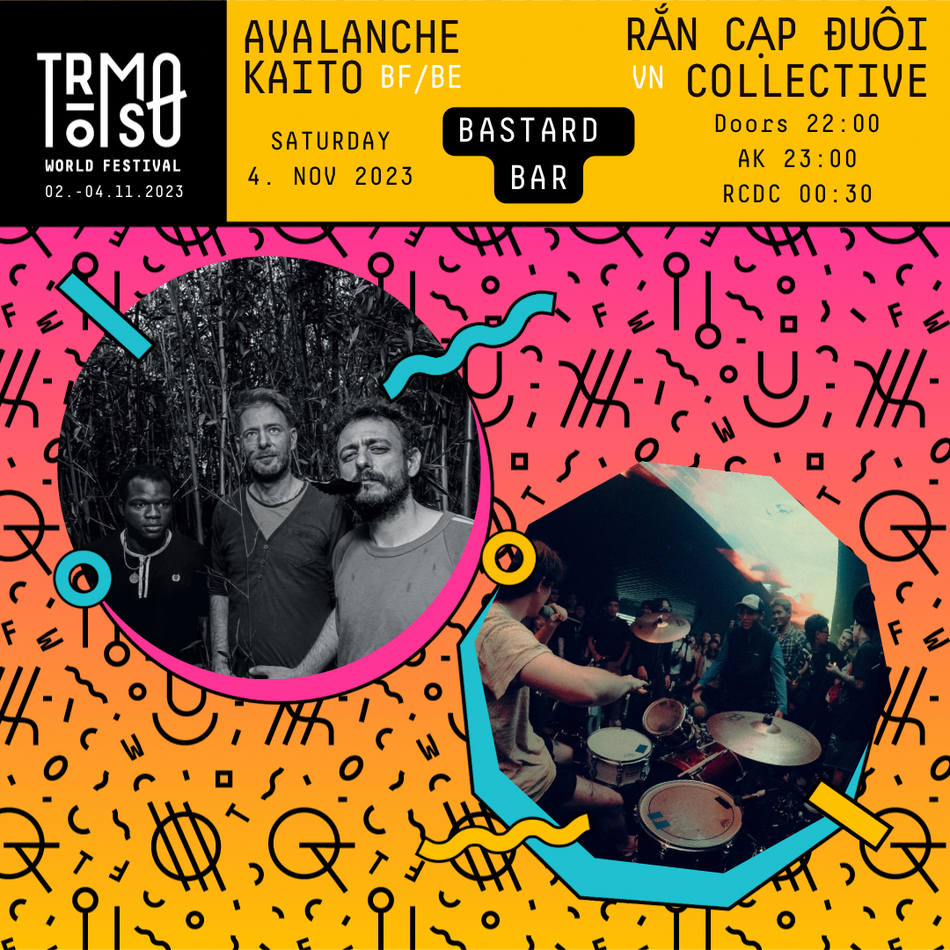 Description
AVALANCHE KAITO (Burkina Faso/Belgia) + RẮN CẠP ĐUÔI COLLECTIVE (Vietnam)
double concert
Saturday, 04. November 2023
Bastard Bar
Doors: 22:00
AK: 23:00
RCDC: 00:30
Avalanche Kaito:
In 2018, a Burkinabe griot meets the Brussels noise punk duo Le jour du seigneur. It's a completely new alloy and it's also a huge opportunity to deconstruct knowledge and create a brand new playing field. After a few adventures in the scenes of the European underground, singer / poly instrumentalist Kaito Winse and drummer / pure dataist Benjamin Chaval (Bargou 08, Le jour du seigneur) invite Nico Gitto (Facteur Cheval, Zoft, Why The Eye ?) on guitar. They will develop a crazy universe between experiments without a net and incredible postmodern grooves. This is truly the world as it is: a world of travelers who meet. Like Kaito, they can both claim to be guardians of tradition and curious about all combinations. Others, like Benjamin or Nico, are more the kind of multikulti. They share a desire to reinvent. They are ready to follow the backwater where it will move according to climate changes. It's a world of movement and too bad for those who are afraid.
The trio mostly play Kaito's compositions, each making sure to write their part very freely. At the end all compositions are collective. The griot handles proverbs. These are the pillars of wisdom. He can both murmur and harangue, while his intense flute solos come straight from a free jazz he never knew. Nico brings this very rare quality of being both able to ensure the groove of a very uncommon rhythmic barytone guitar and develop sophisticated sound experiences. Benjamin plays his destroy drums with two cut pieces of brush handle. Also he provides an important Pure Data electronic part partially controlled by triggers, a real fourth wheel to the coach.
Rắn Cạp Đuôi Collective
Vietnamese experimental music collective Rắn Cạp Đuôi have been expanding their vast auditory spectrum since forming back in 2015. The group shifts between rave music and eco-futurism, and press on new endeavors in '*1', released this spring. Their maximalist sophomore record trades their debut's cool pessimism for rapid-fire digital collages that demand us keep dancing through the apocalypse. Their idiosyncratic performances, such as their famed three-drum improvisation Boiler Room set, play up to the same principle. Their passage through Tromsø World will mark their European debut, for which they have prepared to share stage with Avalanche Kaito and create chaos in our lovely Bastard basement.
Tickets
Discount

If you have a discount, enter it here for your price