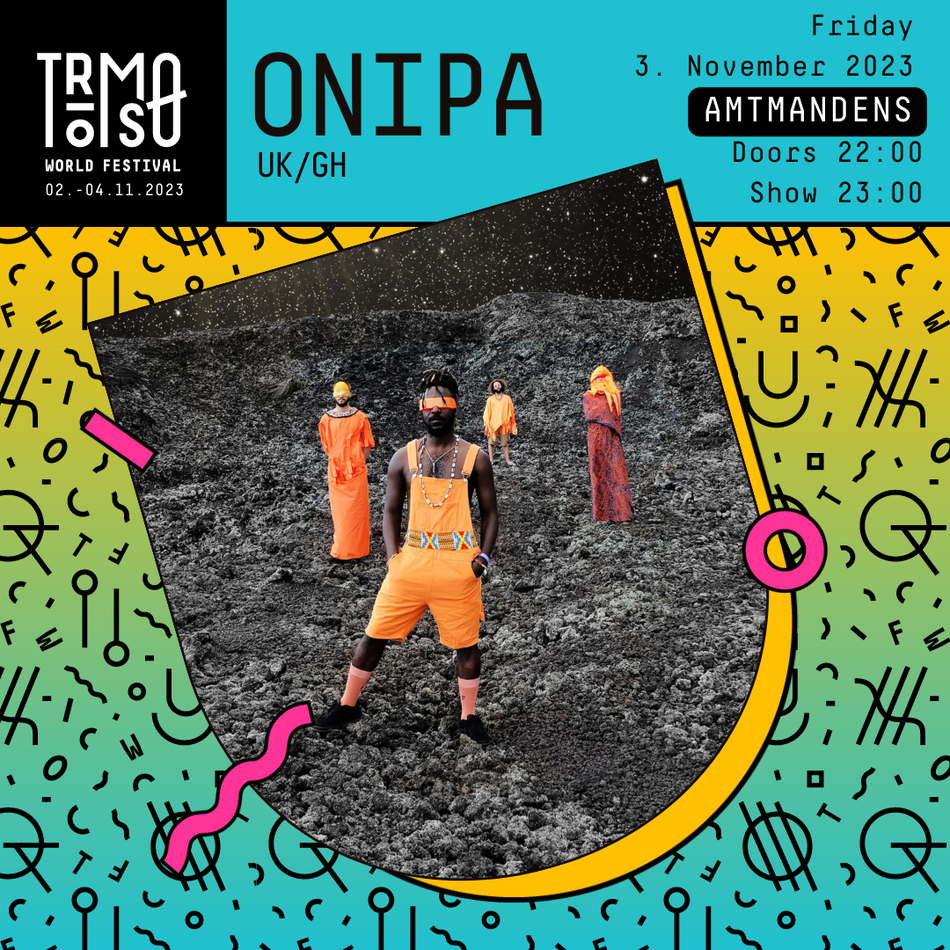 Description
ONIPA
Doors: 22:00 // Show: 23:00
Venue: Amtmandens
Afro-futurist breakout stars from the UK and Ghana.
Onipa is the fiery collaboration between some of the heaviest players on the vibrant, genre crossing UK scene at the moment. It was born out of collaboration between two long-time friends: The rapper K.O.G. (Kweku Sackey) from Ghana and the eclectic producer Tom Excell (musical director of Nubiyan Twist). When they join forces, sounds from Ghana, London and beyond meet.
Their debut album, We No Be Machine was released in March 2020 via Strut Records. The record combined deep afro grooves, electronics and fierce energy. This release was followed up in September 2021 with Tapes Of Utopia, a mixtape full of dancefloor fire released on Boomerang Records. This year, Off the Grid dropped - a journey that combines dance rhythms from Africa to electronic dance music of today's clubs and festivals, connecting African folklore and storytelling to rap, jazz and hip hop. It was released on Peter Gabriel's Real World Records, and features collaborators such as Moonchild Sanelly, David Walters, Dele Sosimi and Theon Cross.
The 5-piece live show features K.O.G. on vocals, balafon and percussion, Tom on guitar, percussion and electronics, Dwayne Kilvington (Wonky Logic) on synths and MPC and Finn Booth (Nubiyan Twist) on drums. Onipa have already played major live shows including The Great Escape, Eurosonic, Glastonbury and the virtual edition of SXSW 2021. They will be performing their very first show in Norway during this year's Tromsø World, with a pitstop at Oslo World.
***
Afrofuturistiske stjerneskudd fra London og Ghana
Dører: 22:00 // Show: 23:00
Sted: Amtmandens
Onipa er et samarbeid mellom noen av de mest sentrale aktørene på den høyst levende, sjangerkryssende britiske musikkscenen, for øyeblikket. Bandet har sitt utgangspunkt i et samarbeid mellom to gamle venner: rapperen K.O.G. (Kweku Sackey) fra Ghana og den eklektiske produsenten Tom Excell, som også er musikalsk leder for bandet Nubiyan Twist. Når Sackey og Excell samarbeider, møtes impulser fra Ghana, London og resten av verden.
Debutalbumet We No Be Machine ble sluppet i mars 2020 på Strut Records. På albumet ble dype afro-grooves og elektronikk kombinert og formidlet i et intenst energisk uttrykk. Utgivelsen ble fulgt opp såret etter med Tapes of Utopia, en mixtape for dansegulvet, utgitt på Boomerang Records. I år slapp de Off the Grid, et album hvor danserytmer fra Afrika smelter sammen med elektronisk klubbmusikk, og folklore og fortellerkunst møter rap, jazz og hip hop. Det ble sluppet på Peter Gabriels Real World Records, og på albumet samarbeider de med artister som Moonchild Sanelly, David Walters, Dele Sosimi og Theon Cross.
Live er Onipa en kvintett - K.O.G. på vokal, balafon og perkusjon, Excell på gitar, perkusjon og elektronikk, Dwayne Kilvington (Wonky Logic) på synther og MPC og Finn Booth (Nubiyan Twist) på trommer. De har de siste årene spilt store konserter på festivaler som The Great Escape, Eurosonic, Glastonbury og den virtuelle versjonen av SXSW i 2021. I høst spiller de i Norge for første gang, under årets Tromsø World og hos våre venner i Oslo World.
Tickets
Discount

If you have a discount, enter it here for your price